Welcome to Sidewalk Zydeco.com
Shelly Waters, Shrimp City Slim (Keys), OJ, Guitar, John Clam Chop Etheridge, drums, Johnny Ace, accordions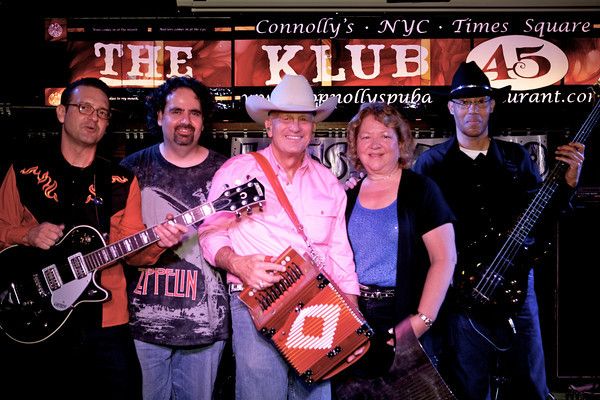 Steve Riley loves SZ!
"Johnny Ace and Sidewalk Zydeco are one of the hottest up and coming groups in Zydeco music outside of south LA! These guys have been listening to and studying Cajun and Zydeco music for years and truly capture the essence of what Zydeco music is about. Great energy, very danceable, solid rhythm, and the laissez les bon temps roulez attitude that makes audiences feel good and want to get up and get down!

I personally gave Johnny Ace (accordionist, bandleader, vocalist) an accordion lesson a few years ago. He's very dedicated to capturing the true style of the Cajun & Zydeco accordionists of south LA and is a natural with a great disposition and stage presence! These guys love Zydeco music and that comes across in their live performances and "joie de vivre" attitude! NE Zydeco at its finest!" - Steve Riley
Johnny Ace and Sidewalk Zydeco have been playing together since September 2006. Fate dictated that they log onto Craigslist at the same time looking for like minded musicians who loved Zydeco and wanted to put a band together. They met at a midtown studio and found an instant groove. From that first jam they have strived to bring the real Zydeco music of Southwest Louisiana and East Texas to the Northeast and beyond and expose it to as many people as possible. The band can't help being influenced by the collective musical experience of the members which ranges from Do-wop, to Salsa, Bluegrass, Ska, Reggea and just plain kickin' Rock and Roll. Those influences give the band a distinctive contemporary urban sound but still firmly grounded within the single and triple row accordion sounds of Zydeco. Like Johnny says during their shows, "we put a New York edge to that Creole sound and when we hit the stage we don't fool around." Indeed, their audiences are treated to a "ferocious dance groove" that is appreciated by dancers who are always looking for that Zydeco beat that forces you to move. Even if they don't know the steps, everyone in the audience is on the floor moving something as soon as that diatonic accordion starts pullin', yea u right!

The band has repeatedly drawn a "highly recommended" rating from "Time Out NY" magazine for it's NYC shows, been written up in "The New Yorker" and has played to packed dance floors at all the major Zydeco venues in the Northeast: Connolly's in midtown NYC for Zydeco Laura's productions,( Lets Zydeco) , the TK Club the Philadelphia area for Allons Danser (Allon Danser), Washington D.C. at The Spanish Ballroom and the Bumper Car Pavilion (Bumper Car Pavillion), Boston (Boston Zydeco), Hudson Valley Community Dances at White Eagle Hall, Kingston N.Y.,Somebody Scream Productions (Cajun Zydeco) The German Club in Rhode Island, Sal's Productions, (Sal's Production) as well as appearing two years in a row at Michael Arnone's Crawfish Festival, (Crawfish Festival). Additionally we have played at numerous Bars and Clubs in the tri-state area as well as private parties, crawfish boils, weddings, Bar and Bat Mitzvahs etc..

For more from Johnny Ace & Sidewalk Zydeco, please find us on Facebook!
For Booking:
Contact ZyDonna!
SidewalkZydeco@gmail.com
(215) 487-0187

Click for Sidewalk Zydeco Photo Gallery!